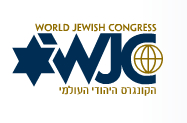 Website: http://www.worldjewishcongress.org/foundation.html
Research and Due Diligence: Click Here
About World Jewish Congress Foundation
\World Jewish Congress, or WJC is a non-partisan international organization whose mission is to address the needs of Jews and Jewish communities worldwide. Founded in 1936 to unite the Jewish people worldwide and address the Nazi onslaught, WJC today represents Jewish communities and organizations across six continents and 80 countries, representing its core mission: All Jews are responsible for one another.
To that end, the WJC strives to:
• Secure the rights and safety Jews and Jewish communities around the world;
• Intensify the bonds of world Jewry and strengthen the ties of solidarity among Jewish communities everywhere;
• Act in coordination with and on behalf of Jewish communities before governmental, intergovernmental and other international authorities on matters concerning the Jewish people, and;
• Cooperate with all peoples on the basis of universal ideas of peace, freedom and justice.
Membership in the WJC is open to all representative Jewish groups or communities, irrespective of the social, political or economic ideology of the communitys host country. As a global leader, the World Jewish Congress has special credentials and recognition at the United Nations, making it unique among world-wide organizations as it enjoys a diplomatic seat in the U.N. and within many of it institutions, commissions and sub-bodies.
Recognition: Dana Raviv